What is the glass coating?
Most advanced vehicle body paint protection technology in Japan. The glass coating film will be damaged by various harmful substances, such as UV rays, acid rain, bird droppings and pollen etc, in place of vehicle body paint surface and provides a durable high gloss finish. You do not need to wax or polish anymore and can maintain a brilliant shine from a simple car wash.

Why ?
Harmful substances are shut out,
and vehicle body paint surfaces are perfectly protected.
"i+g Coat" forms a glass coating with an enough level of hardness on the top layer and, therefore, it absolutely protects vehicle body paint from substances that can damage the car coating. This coat prevents the body paint surfaces from becoming dirty and scratched at a high level and guarantees its high water repellency.
The coating can be applied efficiently in a short amount of time, so the service can be offered to customers at a low cost.
The highly efficient workability of the coating enables swift job completion. "i+g 1Y Glass Coating" takes approx. 2 hours, which is shorter in comparison with a coating using a polisher.
That helps reduce the amount of time the customer waits.
Application of the fluorine-based resin coat as the primary coat protects the surfaces of vehicle body paint and eliminates cracking of the hardening glass coat from body distortion when the car is running.
Since no polisher is used, the coating can be applied faster and no heat is generated, thus "i+g Coat" can be used on the latest high-performance vehicle body paint, which repairs any scratches on the surface by itself as time goes by.
The coat takes approximately three hours to harden and 24 hours to set completely.
*Keep rain away from the coating for 24 hours after application.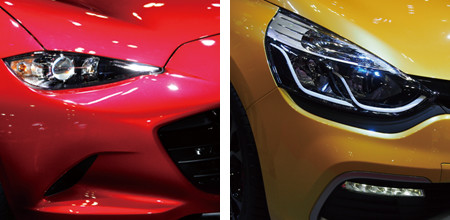 Maintain the original beauty of the vehicle body paint


Work and effect
"i+g Primary Coat" is applied and creates the smooth foundation and at the same time removes minute wiping flaws and dirt that will change to white streaks.
"i+g Top Coat" is a stain-repellent coating that maintains its rich fascination for a long time leading to a complete hard coat with one-year durability.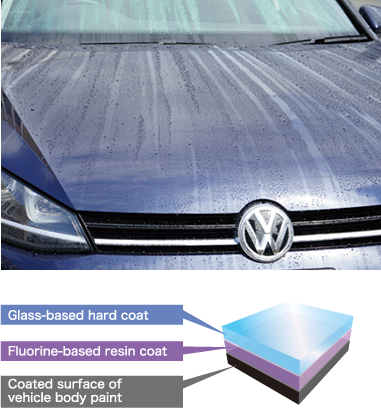 Work and effect
"i+g Primary Coat" is applied as well as "i+g 1Y Glass Coating".
After "i+g Primary Coat" is applied, dry the coating for approx. 3 hours, and then apply "i+g Top Coat" again. A double coating of "i+g Top Coat" completes the hard coating capable of 3-year durability. This double coating creates a stronger glass coating layer, which protects coated surfaces from dirt and scratches and remains effective for a longer period of time.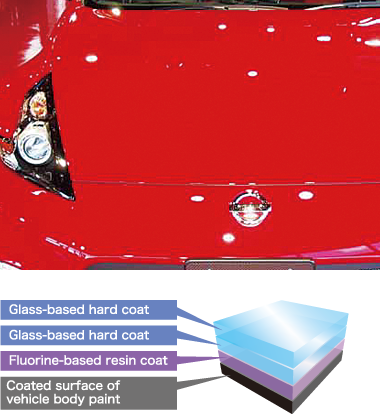 Optional Menu
Try them at the same time when working application of glass coating.
Tire & Wheel cleaner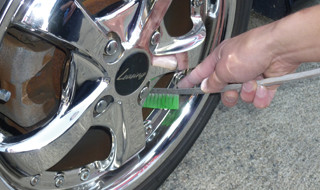 By the action of a special solvent and alkali, the dirt attached to tires and wheels can be removed.
Wheel coating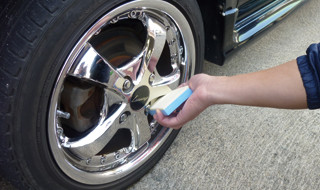 The coating of an ultra-water-repellent glass-based hard coat protects wheels against dirt from the brake and / or mud from road.
Tire coat
[tire wax]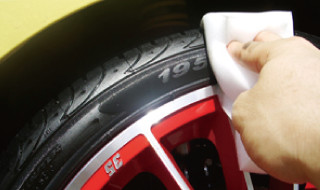 This is an aqueous tire wax with twice as much gloss components as general products. This wax excels in persistence.
Headlight cleaning & protection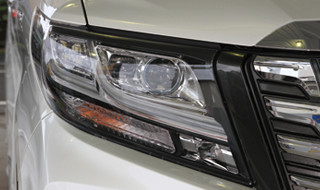 Anchoring dirt and scratches are completely removed by two kinds of cut cleaners. After polishing, "i+g Top Coat" protects the surface.
Window glass coating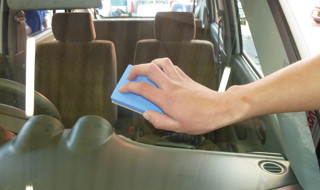 The two types available include a fluorine type with advanced durability and a silicon type with exceptional water repellency.
Window glass cleaner
[inner window cleaner]
This ultra-quick drying alcohol-based cleaner eliminates the anxiety about wiping line and solvent residue and reproduces transparence, the original nature of glass.
Recommendation of "i+g Coat" for new cars!
For an older car, groundwork processing is necessary before the coating process (time required depends on the level of grime on the car). "i+g Cleaner" is required to remove water-based grime and "i+g Rubber Pad" is required to remove iron powder. Extra charges apply for these services.
i+g Cleaner
[water stain removal]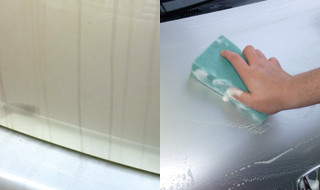 The product contains aluminum antirust components. By the action of the high-grade powder and water stain decomposing components, persistent water stains are easily removed.
i+g Rubber Pad
[iron powder removal]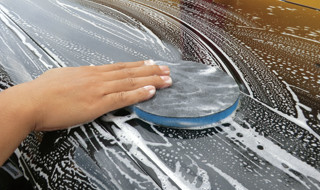 This is a special tool that includes special rubber to remove iron powder from the car body quickly and easily. It takes only 5 to 10 minutes to finish a passenger car.
Simplified polishing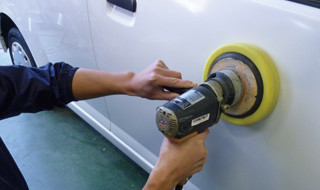 This removes dirt from the car body and adds shine. Thanks to super hard abrasive particles, a high level of polishing force is provided. The special heat-resistant solvent prevents abrasive particles from adhering to the car body.