Conclusion of agreement with Konosu City related to emergency supplies during disaster
Ing Corporation concluded an agreement related to emergency supplies during a disaster with Konosu City on July 27, 2012. The aim of the agreement is to provide support to people affected by a disaster, including evacuees, in the form of emergency supplies in cooperation with Konosu City in case of an emergency or threat of an emergency in Konosu City. We have agreed to transport vanadium natural mineral water, gasoline, light oil, kerosene and other items that we handle when requested by Konosu City.
Support of Konosu Pansy Marathon
Ing Corporation is a sponsor of the Konosu Pansy Marathon. "Fuji no Itadaki" natural mineral water is given to runners in a paper cup by volunteers at water stations. We intend to keep supporting local events in a variety of ways going forward.
Cooperation with resource recovery with schools nearby
Useful resources such as cardboard boxes and used paper of no more use to the company are collected and stored before being brought in as resources alongside resources being recovered by local elementary and junior high schools. We contribute to the local community in a regular and ongoing fashion in whatever way possible.
Relief activities following the Great East Japan Earthquake
Our relief efforts began with a phone call to the company president from Craft corp., a business partner in Fukushima Prefecture, stating that there was no gas and no water. Relief supplies collected from employees following an appeal from the president were delivered on March 18 once passage to the area became possible, at which time we came to understand the misery in the region and the minimal daily intake of the kids of bread and a small carton of milk. The company provided support in the form of soup kitchens and supply delivery via employee volunteers 13 times by July to places that included Hebita Junior High School in Ishinomaki City, Onagawa Daiichi Junior High School in Miyagi Prefecture and the Fukushi no Sato Center in Ofunato City.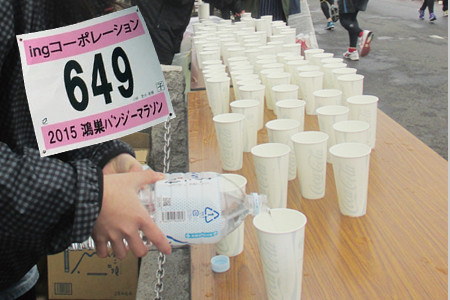 We have supported Konosu Pansy Marathon.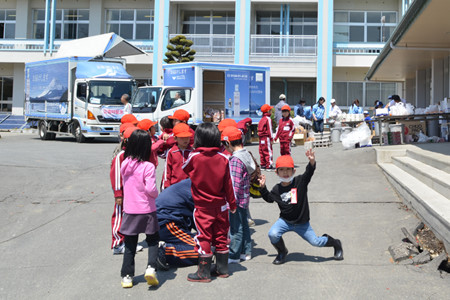 We delivered relief supplies in our trucks in the aftermath of the Great East Japan Earthquake. A soup kitchen was organized on this day.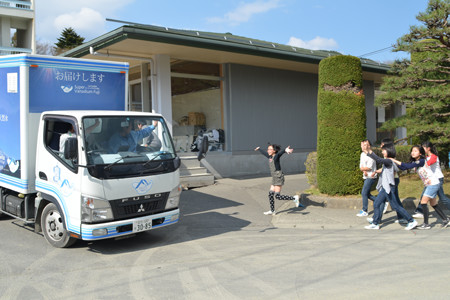 The children gave us a great send-off when we left.