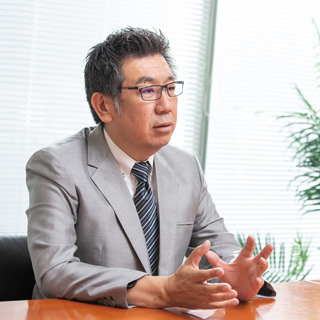 Kenji Susa,
President & CEO, ing Corporation
Our philosophy is always to consider how we can provide customers with convenience and benefit.
Based on this, we review our existing products and introduce new products by using the "ing filter". From this point of view, we have upgraded our natural mineral water to "Fuji no Itadaki Premium" and renovated "Smile Konosu Service Station (SS)".
We make the most use of the advantage of both digital and analog world.
For example, while supporting our providers of gas business for achieving higher operational efficiency by digitizing meter-reading slip, we have also strengthened our mutual relationship through analog-based activities such as face to face payment collection agency service.
In the recent years, we have aggressively approached overseas market as a top business priority. That is, we introduced our original coating brand " i+g Coat" into Southeast Asia and started marketing operations as an authorized importer & distributor in Japan for adidas motorsport products.